This is a WICKED EASY GIVEAWAY -
only 4 entries per person!!
Introducing: Carmex
This giveaway ends on 12/07 and is open to the US
From Carmex:
What keeps your lips healthy now makes your skin happy.
For over 70 years people have come to love the healing power of Carmex lip balms. Finally, Carmex Skin Care is here with a new solution to heal, soothe and moisturize your dry skin.
Introducing: Carmex Moisture Plus™ lip balm
Ultra hydrating. Ultra sleek. For ultra-kissable lips that feel and look fabulous all day.
Now available in NEW Sheer Peach and Sheer Pink Tints!*
* Tints are only available at Walgreens, Walgreens.com and drugstore.com.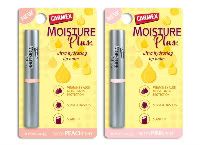 My name is Alicia and I am addicted to lip balm. I put it on every night before I go to bed, every morning after I brush my teeth - and about 30 times in between. During the winter months I HAVE TO HAVE CARMEX. Other lip balms just won't do.
So, you can imagine how excited I was when I learned that I was accepted into the Carmex Blog Squad. FREE Carmex to review...and more to give away? I couldn't believe it!
This month I received 2 tubes of Carmex's Moisture Plus Ultra Hydrating Lip Balm...and I love them.
You see, I'm not a lipstick person, but I do like to give my lips a little color. These lip balms are nice because they give your lips just a little bit of color without feeling thick and heavy like lipstick!