This is a WICKED EASY GIVEAWAY - only 4 entries per person!!


Introducing: Cowgirl Chocolates
sweet and spicy gourmet chocolates for adventurous chocolate lovers
This giveaway ends on 2/7 and is open to
residents

of the US and Canada.
From Cowgirl Chocolates:
Head Cowgirl Marilyn Lysohir founded Cowgirl Chocolates in 1997. Her two favorite things in the world are art (she has a notable career as a ceramic sculptor) and chocolate. In fact her first job was working in a chocolate factory in Pennsylvania. Marilyn mingled some favorite memories with some new ideas to create an American original, Cowgirl Chocolates...chocolates with a spicy cowgirl kick. She was the pioneer, one of the first companies to offer spicy chocolates in the world.

You can visit Marilyn Lysohir's web site at :
www.marilynlysohir.com
And if you are having a Bad Day that Chocolate can't fix, visit Marilyn's sister's website:
www.askpsychiccynthiaann.com
From me:
OK...let me just warn you that these chocolates really are spicy!
When I received my sample pack I immediately dug in. That piece of chocolate was the BEST I've ever had in my life - and it didn't taste spicy. I tried another - same thing.
Then I grabbed a caramel. I chewed for a few seconds...and the fire HIT HARD. I didn't know what to do! That caramel was sooo good that I didn't want to spit it out - yet so hot that I couldn't handle it.
So, I compromised. I chewed and swallowed that thing as fast as I could. Oh...my...goodness.
It wasn't until later that I noticed the flavor guide. Apparently the first two chocolates I tried were mild and that caramel was buckin' hot!
WARNING: Consult the flavor guide before you eat these chocolates, you'll need to prepare yourself for the hot ones!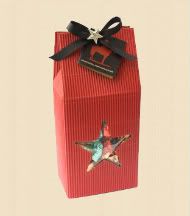 WIN Cowgirl Chocolates:
The Head Cowgirl has generously offered to send one of my lucky readers a 1/3 pound sampler, pictured above!
LEGAL:
This giveaway ends at 11:59 EST on 2/7 and is open to residents of the US. The winning entry will be chosen by a Random Number Generator and the winner will be contacted via email. The winner is responsible for providing ME with their name and address. If I do not hear from the winner within 48 hours I will have no choice but to choose another in their place. Just wondering if anyone actually reads these disclosures. If you happen to notice this, go ahead and give yourself an extra entry for this giveaway. Just tell me "I actually read your disclosure".
Disclaimer:
I received a product to review and another to give away. I did not receive any other form of compensation. All opinions expressed are my own and your opinions may be different. Cowgirl Chocolates is responsible for prize fulfillment.